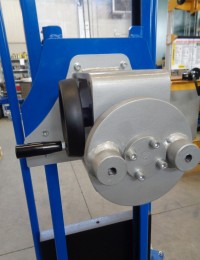 A leading Italian company producing glass containers for the pharmaceutical sector contacted us, submitting the need to maintain molds and oven components for the production of bottles for medicines, without having to touch the mold to take it and turn it as often at very high temperatures.
In addition to explaining the need, the customer was able to provide a drawing of the mold to be handled, thus guaranteeing an equipment made "to measure", therefore, we have designed and produced equipment "to size" on the mold that the Customer must handle. This equipment allows the piece to be screwed directly to the trolley, making it integral with the same. All the operator has to do is screw on the screws, without touching the mold in any way, which could still be hot.
This special equipment was mounted on a Handy manual lift, which guarantees the user great maneuverability even in small spaces such as those found in a glassworks workshop.
Thanks to the winch, once the mold is fixed with the special screws, the operator can lift the load to the desired height and start maintenance and cleaning operations.
The manual handwheel on the side of the upright allows the mold to rotate 360 ​​° both left and right, while the self-braking reducer allows the mold to be stopped in any position without limiting the operator in any way.
To ensure greater safety, the customer asked to add an additional mechanical stop in addition to the winch braking system. This lock has been mounted on the upright side so that the operator can insert it whenever he sees fit, without hindering its operation in any way.