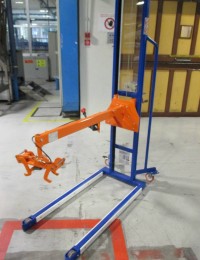 A company world leader in the production of machines for PET packaging contacted us to equip its machines with equipment for lifting and positioning of coils and molds used within their own equipment.
The requirement was to provide its customers with a suitable elevator to exchange molds and other components placed inside the packaging machines, which are then shipped around the world.
During an inspection in their production area, we were evaluated the required elevation and capacity and the obliged spaces in which the elevator must necessarily work. In fact, the legs must slide along predefined lanes that force, as a result, the arm with special clamp to enter an exact confined space where it takes and places the molds. The arm must enter the interior of the machine, but without affecting other components or parts. Therefore, we have developed and produced a special version of Handy mini lifter with manual winch lifting, without forks on the standard plate, but with arm equipped with a special clamp for gripping " from interior" molds.
The chassis is modified by lengthening legs and staring at their sides of the Teflon caps that guarantee a greater smoothness without the risk of damage both legs of the carriage and the guides under the packaging machine. In fact, thanks to the guides in steel placed under the packaging machine, the carriage and therefore the gripper arm, running along a predetermined path that allows the gripper to reach the exact point of grip or release the mold without risking damage at other points of the machine itself.
The mold is completely manual handling thanks to the winch that allows the lifting and descent with extreme precision and to a cable lever which controls the gripping and release. The lever has a device to latch which guarantees the safety and tightness even during handling