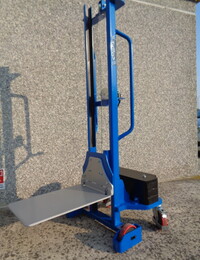 For an important chain of household appliances where operators must place the appliances on wall displays or wooden boxes, The Handy CB counterweight lifter was immediately the ideal solution even if modifications were made to further adapt it to the various needs of use, flooring, and spaces of the various stores.
Often the trolley user is female staff, for this reason, it has been planned to stretch the crank handle of the winch in order to minimize the effort.
The floors are different: stoneware, linoleum, and carpet, for this reason, polyurethane wheels with diameters increased by 150 mm are provided to ensure good smoothness and, at the same time, avoid damage to the surfaces.
Given the variety of possible loads, the structure of the lift is reinforced, as well as the winch, and increased the ballast to ensure a maximum load of 130 kg.
The lift is equipped with a special platform in DOMEX that allows the load of 130 kg without any bending. Volcanic rubber protection is placed on the front of the platform to avoid damage to loads during handling. (Ref.18/27)