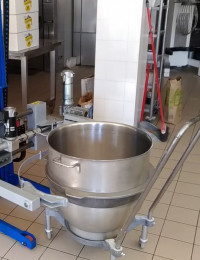 One of our dealers visited a workshop in the province of Belluno where biscuits and other confectionery products are produced..
The customer needed to take the stainless steel boule from the mixer and pour the dough inside a dosing hopper.
The boules have different sizes and weights up to 150 kg
We designed and manufactured a special clamp suitable for gripping boules of different sizes with customized thin grippers hinged and covered with food rubber.
The opening and closing functions of the grippers are controlled by a double electric actuator, while the rotation is thanks to an electric motor placed on the side of the clamp.
All functions are controlled by a wired control panel that allows you to operate both the rotation and the opening and closing at a safe distance but ensuring a perfect view of the operations to be performed.