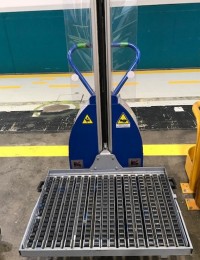 This special platform was made with many mini nylon rollers inserted to facilitate the packaging operations of a well-known company that produces automotive components.
The customer needed to make sure that operators could work effortlessly and safely. For this reason the normal platform has been replaced with this metal plate with the surface completely covered by more than 270 mini-rollers in high-slip nylon.
This type of roller conveyor ensures optimal load smoothness and therefore, handling speed without any effort for the operator.
Operators must move mostly medium and small-sized cardboard boxes containing spare parts for the automotive industry.
The platform has a retractable locking system that allows you to move the elevator with the load safely and, only once the lift is stopped, can it be lowered thanks to a lever.automatic locking system activated on platform
Thanks to this retractable stop, the mini lifter is positioned in front of the gravity roller which is thus fed without any effort..
The minilifter newBingo 200 is equipped with a plexiglass protector against falling of the load, to be able to load even tall boxes or more than one row