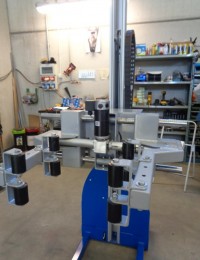 Our dealer in Greece asked us to develop a special electric clamp for one of his best customers.
They need to move pvc reels in their production line,in particular in packaging area.
They take reels from a pallet in horizontal and turn it in vertical position, so they can insert a spindle to put in a packaging machine. They have very reduced space and they need to turn in narrow corridors, for this reason we chose 4 swivelling wheels.
This special clamp is completely electric, in order to avoid any possibilities of oil lacking and dirty in general. Fully electric system grants also less and easier maintenance.
Instead of standard jaws we put 8 nylon rollers to avoid any damage on breakable material of reels.
Opening and closing movement is controlled by an electric actuator with double slip.
The clamp can rotate of more than 300°, thanks to an electric motor.
A remote control with 5 buttons can control all electric movements: opening, closing, right and left rotation.