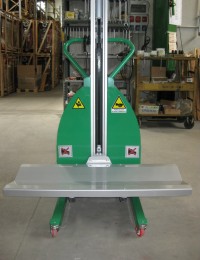 A Company followed by one of our local dealer needs to move bulky reels with a max lenght of 1600 mm and a max diameter of 300 mm.
During an inspection made by our dealer, we discover that they have very little space to move with this reel, so they need to lift, move and positioning these long reels in very narrow space.
We developed a reel holder with special dimension, suitable for reels with length 1.6 m and max diameter 300 mm. The cross-cradle is fixed with screws on forks to give more stability and to warrant the safety of the operator during the use.
The lifter result handle and friendly to move thanks to 2 swivel frontal rollers placed on legs. This solution grant to the operator to move the minilifter without any efforts for the user during the lifting and positioning operations.