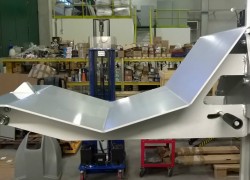 NewBingo semi-electric mini lifter designed specifically for a leading label printing company in northwest Italy.
This Customer needed to replace an old lifter equipped with a simple platform, which is not suitable for handling reels and no longer meets the requirements of safety regulations for operators. Unfortunately, the operating spaces and overall dimensions of the label printing machine did not enable use of the mini lifter with a standard chassis. In fact, the NewBingo semi-electric lifter was designed with spokes shortened to 430 mm and total with of 275 mm.
This compact size on the floor enables the forklift to reach the ideal point to position the reel inside the machine to print the labels and avoid unnecessary stress of operators. The capacity is downgraded by only 20 kg, thus ensuring transport of reels up to 80 kg.
The front cradle facilitates loading, unloading and positioning operations of the reels and the special lock lever situated on the side, locks the cradle once the reel is loaded, thus preventing it from moving or rolling forward and becoming a potential source of danger to people or objects during handling.
The cradle has a base of 370 mm and its design makes it suitable to handle reels with a maximum diameter of 570 mm. However, depending on the dimensions to handle, it is possible to design cradles that are also suitable for other diameters, lengths, etc..