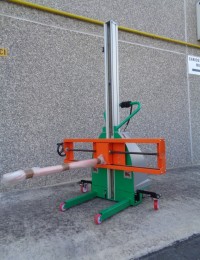 One of our dealers introduced us the need of one of his customer who has to handle paper rolls. These coils arrive positioned in horizontal rows on a pallet and the customer must be able to take them and place them on the printing machines.
The coils have a maximum weight of 65 kg and a length of 1600 mm. To meet this need we have supplied a NewBingo 200 with a spur in a special version mounted on an endless screw that, thanks to a handwheel, can slide right and left.
In this way, by inserting the spokes under the pallet it is possible to pick up all the reels from the pallet without having to move them manually. We have added two side stabilizers to ensure stability of the lift even when the coils are positioned more externally on the pallet.